Selling more retained services
HHMC's latest Business Intentions Survey identified many areas to enhance growth for small and medium placement agencies. A good percentage of business owners highlighted that they need to sell more retained services. To remind you of why your clients should buy on a retained basis rather than success fee, I've collated the following arguments.
Recruitment firms can slide into a non-retained relationship all too easily. Sometimes it is because you have an excellent relationship with your client that you know that they'll pay up anyway. Other times it is the only way to break into a client to start a relationship. While the economy remains buoyant, you may not yet feel the pain of a contingent relationship, but when it changes, it will be too late to change your financial arrangements. Developing a business case as to how you add improved value to your clients when they work with you on an exclusive, retained basis is the start for making this shift.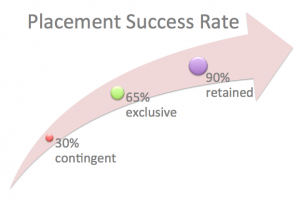 We all know that you are more likely to place a retained role than a contingent one. So it is in your client's interest to retain you. They are more likely to have a successful outcome – and after all, isn't that the purpose?
Let's break down why retained roles are more likely to have a successful outcome. My apologies to anyone whom I have plagiarised as this is from resources collected over the past 20 years:
Commitment from a client means you can commit your resources to developing a thorough understanding of your client's needs.
Quality Briefing in contrast to a quick sketchy telephone overview, as is often the case when using multiple agencies. A client will provide you the time for a controlled and comprehensive initial briefing.
Priority. You are entirely responsible for the success of a retained assignment and will give it your full attention and absolute priority.
Time-saving. Briefing only one agency reduces the number of candidates your client has to consider.
Flexibility. You develop a thorough knowledge of the client's business and positions required, and can more readily respond to changes in specifications.
Relationship Building. You get to identify and understand the client's corporate culture and the characteristics of the type of candidate who will fit that culture and environment.
Team Building. Because you know the people in the business, you will be able to select candidates who will complement the team.
Total Market Search. In the case of a skill shortage, retained assignments ensure that you keep searching until you find a candidate with the required skill set and experience.
A thorough Appraisal and Pre-Selection of both external and internal candidates improves the quality of decision-making and saves time for your client. You provide impartial recommendations as you have no vested interest in your candidate being chosen (as opposed to the non-exclusive arrangement).
Cost Effective. Usually, the recruitment fee is the same as for a non-exclusive based placement, so the client does not pay any more.
Dedicated Consultant Effort. The client is paying for your expertise, effort, use of resources and results.
Senior/Superstar Candidates. These candidates are not interested in being shortlisted for generic roles with numerous other candidates and no guarantee of an interview.
Total Solution. You can advise objectively on the best overall human resources solution to a client's needs rather than taking a piecemeal approach.
Control. The client is kept abreast of the process and can plan because they receive the following information from the outset:

Fully documented assignment specification ensures that the Consultant's interpretation of the job is correct.
Upfront outline of the process for the assignment with detailed timetable, scheduling and advertising program.
Report dates, with conclusion date, agreed to and documented.
Changing the paradigm within your organisation is the next hurdle. You know the arguments but now have to have a conversation with your clients. It is not as painful as you perceive. I did this. After eight years of business, I changed my focus from recruitment to executive search, and as such needed to ensure that we were partnering with the client. We started with a new client (thank you Heineken) and then moved the new arrangement to other existing clients. Within 18 months, we had 85% of our clients converted to a retainer arrangement.
Converting our assignments to a retainer model resulted in happier clients, a higher success rate and a more professional business model. So I know that it can be done, and the reasons for it stand the test of time.
Photo by Ambreen Hasan on Unsplash